The BeemerShop Technicians
Over 50 years of experience between them!
Loaner bikes

available by appointment and ride

in "while you wait" work welcomed
.
Hi Speed Wifi

Kick back and watch a movie on

our flat screen TV or surf the web

Yes, and yes! The best of their era and we work on them both.
Yes, and yes! The best of their era and we work on them both.



Jeff performs 600 mile service on new liquid cooled R1200GSW.
Yes, we have the latest diagnostic software
to properly service these new model

We Offer:


Suspension Sales & Service

Factory trained and authorized shock service for

Ohlins, Wilbers, Yacugar, YSS & Ikon.


Suspension Installations

for all brands including
Triumph, Honda,
Suzuki, Yamaha, Kawasaki, Harley and BMW.


Mail Order Work
Specializing in gearbox, final drive and
cylinder head work for BMW motorcycles.
more info here...


Airhead Expertise

We have over 30 years of experience!
ALL SCHEDULED SERVICES

including:

600 Mile Service
(we have the latest
technical software for K1600 and R1200GSW).
6k and 12k etc. Scheduled Services
with factory filters or OEM Mahle filters at reduced
prices.
Coolant, brake fluid, clutch fluid
changes
with factory approved fluids and
proper vacuum filling equipment.
Multiple brands of brake pads and
brake rotor upgrades, stainless
brake line kits
Drive belts, chains and sprockets
Tire changes
with computer spin balance, all
tire brands available, most in stock.
Several brands of sealed batteries
in stock at all times

State of the art LED driving lights
in stock for immediate installation.
Extensive line of Alt Rider
Adventure Touring
Accessories
in stock ready for installation.
Engine, transmission and final
drive repairs,
we are masters of proper
shimming techniques with over three decades of
experience.

Clutch replacement
Ride height raising or lowering,
shock and fork rebuilding /
revalving, advice and setup
ESA shock repairs
Cylinder head reconditioning
Fuel Injection cleaning services
General diagnostics
for ABS,
chassis electronics, charging systems,
suspension, engine and drive trains.

Pre-purchase/post-purchase
inspections
Welding and minor fabrication
work
Bead Blasting
Extensive list of

Vintage BMW
services
including:
Flywheel lighten and balance
(CNC Program)


Carb rebuilding
Master cylinder sleeving/rebuilding
Handlebar master cylinder
conversions for 1970's models
Wheel straightening, re-lacing,
rim polishing, and wheel bearing
services
Fork rebuilding, suspension
upgrades
Cylinder head work
including exhaust port thread
and spark plug thread repairs, dual plug machining and
ignition kits, valve size optimization, unleaded conversions.
Charging system upgrades
Ignition system upgrades



Bottom end work and complete
engine balancing/blueprinting
Gearbox output shaft missing
circlip machining and general
rebuilding, taller and shorter gear
ratio options


Final drive spline repairs and
rebuilding, precision thread repairs


R100GS driveshaft upgrades


Performance modifications

Complete frame up restorations


and more...




Suspension Training at the Yacugar Factory,
Apeldoorn, Holland.
Jeff under the watchful eye of the training instructor
.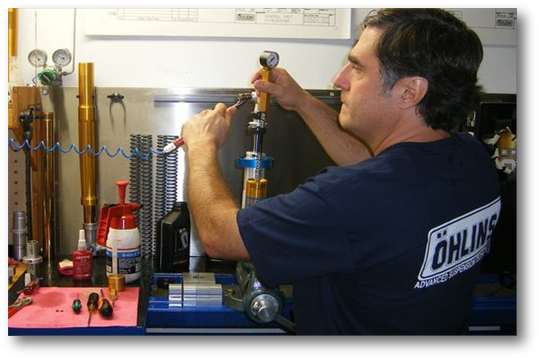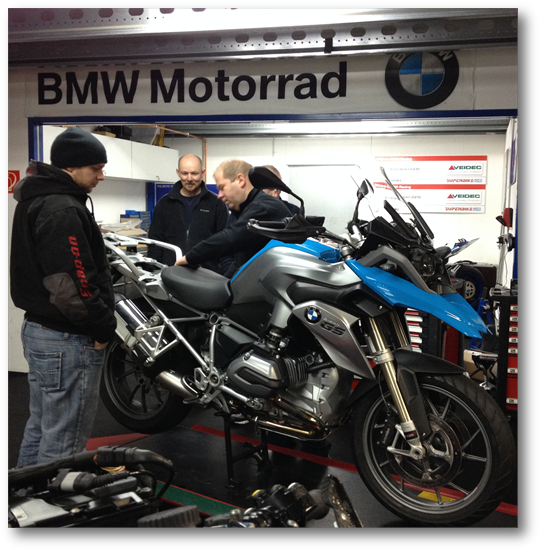 BeemerShop Technician,
Jeff Stark
at Technical Training,
Nordhorn, Germany.

Ohlins Factory Training, Hendersonville,
North Carolina.


Oilhead Gearbox Overhaul.
Ted machines an Airhead Output Shaft for the circlip modification.

Here's a great article on
(just substitute BMW for Harley and the rest is very accurate)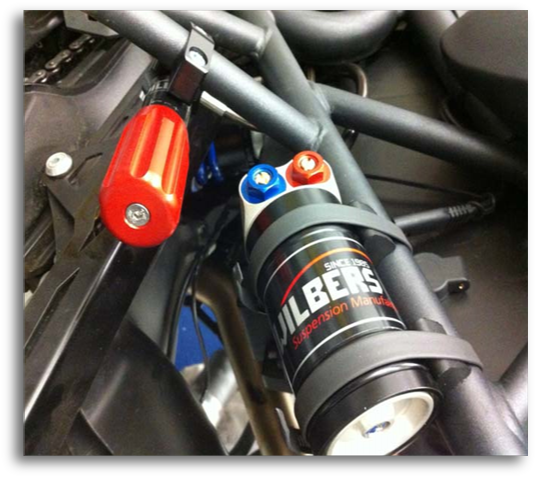 New Shock installation on a Triumph
.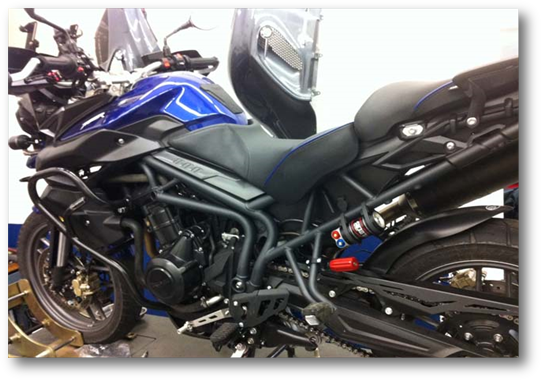 SERVICE CENTER
Winter Hours: Tues - Fri 10-5, Sat 10-4


Service for EURO and Japanese brands
Specializing in BMW motorcycles from 1970 to present